Another Cornish coastal beauty – The Yurt Collection at Lusty Glaze Beach
With 30 miles of beautiful Atlantic coastline to admire, there can't be many campsites with a view or location like ours, but we want to talk about another Cornish beauty spot that has stolen our hearts…
Our friends at Lusty Glaze Beach, a stunning sheltered cove on the North Cornish Coast, have combined all the best bits of the Cornish lifestyle and put them into one incredible glamping experience for this summer only!
If staying on the beach under the stars is on your bucket list, now's your chance to make that dream come true.
This is The Yurt Collection at Lusty Glaze!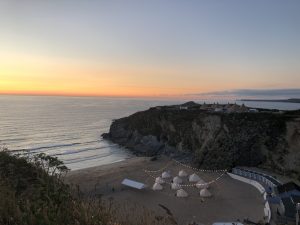 For a limited time only this summer, you can stay in one of these beautiful bell tents right next to the Atlantic Ocean.
The best bit? Lusty Glaze Beach will be entirely closed to everyone except yurt guests this summer (up to a maximum of just 24 people). So if you've been feeling a bit uneasy about venturing out recently, there really hasn't been a better time to escape from it all to somewhere safe and secluded. This little corner of Cornwall will be exclusively yours during your stay, guaranteed. Now that's Vitamin Sea Ayr with a twist!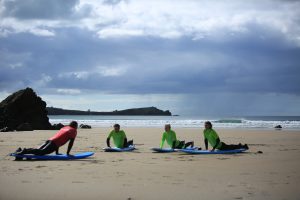 For that extra level of indulgence, we recommend the All-Inclusive Option. Three idyllic nights with all your food and beach activities included – from jet ski tours and paddleboarding adventures to sunrise yoga and freshly cooked dinner by the onsite Executive Chef right next to the ocean. This is the ultimate luxury retreat and all the service of a superyacht…under the stars.
If you're looking for a mellower escape with the flexibility to add luxury when you're there, the Glamping Only Option is just what you need. You'll get to stay right by the ocean and escape from real life for three soulful days – trust us, you won't want to leave!
It's been a bit of a turbulent time for all those businesses in the travel and hospitality industries, to say the least. Our friends at Lusty Glaze have decided to bring all the best parts of their business together in a safe but extraordinary way so that people can finally indulge in the R&R that's so needed right now.
Trust us, you have to see it to believe it…check it out here.
We can't wait to get down there and go beach glamping soon! In the meantime, stay safe everyone.
The Ayr Team x
---