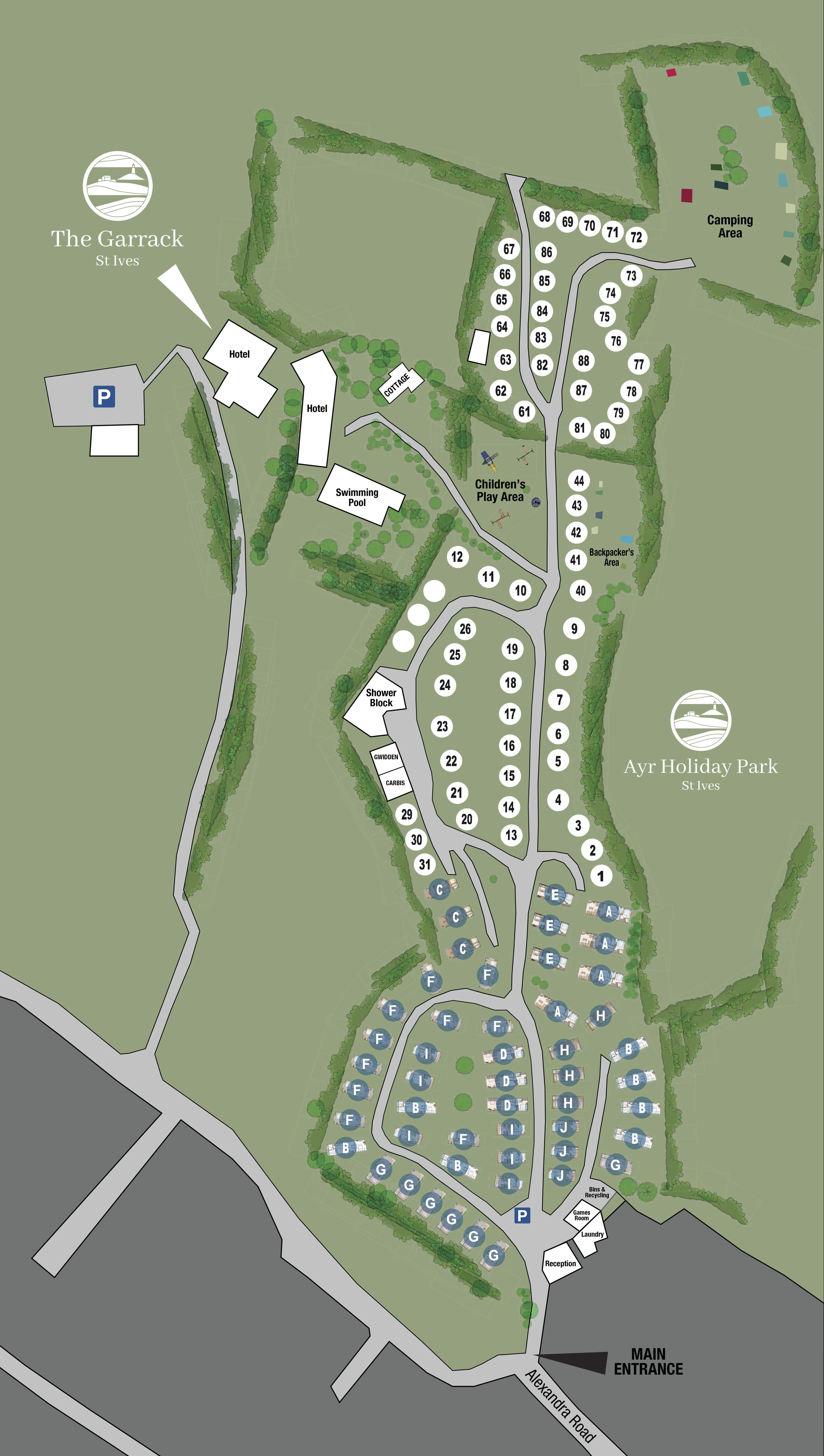 Ayr Holiday Park, St Ives, Cornwall
Ayr Holiday Park can be found in St Ives, Cornwall and is located next to The Garrack Hotel. The hotel and campsite are connected by a footpath through The Garrack's expansive gardens. The park has 30 miles of gorgeous Cornish coastline and views of St Ives Bay and the Atlantic Ocean. Ayr Holiday Park is a AA 5-pennant rated campsite and has the distinction of being the only campsite in St Ives. It is less than a half mile from beaches, downtown St Ives and the harbour in its premiere location.
Ayr Holiday Park
Ayr Holiday Park welcomes both traditional campers and modern caravans. The park has extravagant holiday caravans and self-catering apartments available for any non-traditional campers. The park is open year-round and as noted above, is AA 5-pennant rated, so the facilities are kept in excellent condition throughout the year with modern shower blocks and underfloor heating, dishwashing, and laundry rooms.
Travelers are welcome to bring their own caravan or camper if preferred. There are leveled hard-standing and grass pitches on location for tents and caravans. All pitches offer stunning views of St Ives Bay and the Atlantic Ocean. Eighty pitchers are available, with 40 of them having an electric hook-up and water, and 30 that are hardstanding.
There are many static caravans and two on-site apartments available as well. There is even a new 2020 Seascape static caravan. The apartments and static caravans are great for colder, winter times. With these, you get the park atmosphere and a solid, warm place to stay. The static caravans and apartments have beautiful views of the sea. They also come with well-equipped kitchens and shower rooms. All bed linens are included. Pets are allowed at some of the static caravans, but not in the apartments.
Ayr Holiday Park is only a ten-minute walk to the beaches and St Ives. Or, if preferred, there is a bus that comes to the campsite entrance that travels to town. Portminster Beach, St Ives Harbour Beach, Porthmeor Beach and Porthgwidden Beach are approximately all approximately a half mile from the park.
Park maps, static caravans and apartment photos can be found on Ayr Holiday Park's website. On the website, you can also find details of the amenities provided at each static caravan and apartment before booking.
St Ives Leisure
Since the park and Garrack Hotel are connected and operated by the same owner, there are some perks to both camp and hotel guests. The camp guests are able to use The Garrack's heated indoor swimming pool, spa and sauna – as well as to visit The Garrack's restaurant, bar, and café bar for food and drinks. The Restaurant at The Garrack and its Quarterdeck Terrace
Bar both offer children's menus with smaller portioned meals for kids. Being so close to town, local Cornish restaurants are also within walking distance for campers.
Ayr Holiday Park is very family friendly. For children, there is a wonderful playground with soft landings and also a games room for days of inclement weather. The games room contains a pool table, table football, air hockey and vending machines. The playground has a fun wooden ship for playing pirates and picnic tables and benches for parents to relax or enjoy a meal at during play. Wifi is also active on-site at the park.
Ayr Holiday Park is noted for having some of the best campsite views in all of Cornwall, and as noted above, it is the only campsite in St Ives. The park overlooks St Ives' main beach, Porthmeor beach. The park has direct access to the coastal path. Being next to and connected by pathway to The Garrack Hotel, campers have access to The Garrack's stunning gardens for leisure walks and relaxation.
Although there is no local shop at the park, as noted previously, the park is just 300-400 yards away from local Cornish shopping. Also, nearby are Cornish art galleries, historical sites, beaches and family attractions in St Ives. St Ives is known for its great local artistry and a visit to the local Tate in St Ives near Ayr Holiday Park is highly recommended during your stay.
Facilities
Aye Holiday Park ensures its facilities are of the highest quality year-round for all of its visitors. Everything at the park is highly organized and professional. The shower rooms have underfloor heating to keep your feet warm and have plenty of showers for time of busier usage. There are separate facilities for ladies and gentlemen.
The facilities boast of excellent lighting, hairdryers and shaver points. The facilities are noted to be well-maintained and kept exceptionally clean. Outside showers are in place for wet-suit washing.
The park also has an on-site launderette with washing machines and dryers available for use. Dishwashing sinks are also available on-site.
There are disabled facilities and family rooms and baby baths available.
Travel
The closest airport is at Newquay, which is approximately a 45-minute drive to St Ives in Cornwall. The nearest train station is St Erth, about 3.5 miles away. The Garrack Hotel next door offers transports to the airport and daily site-seeing tours throughout Cornwall and St Ives.
Ayr Bookings
Bookings for pitches cannot be taken online, but are easily done over the phone. A pitch deposit of £75.00 is required at the time of booking and will be deducted from the total pitch fee. Bookings for static caravans or park apartments can be done online or over the phone. Apartment and static caravan bookings must be paid in full 28 days prior to arrival.
Advanced bookings are suggested, especially during peak holidays. St Ives is popular year-round, and Ayr Holiday Park is no exception with its high ratings and premiere location. For tariff information, please visit the Ayr Holiday Park's website or call for more information. The tariff forms break down the cost for a stay based on season dates, pitch, caravan, apartment, amount of people staying and other details. VAT, showers, linens, electricity and hot water are included in the pricing on the tariff forms.
---