Thanks to : www.ollivves.com for the above image:
Surf St Ives
Looking on a camping/surfing trip to St Ives this spring or Summer? consider the Ayr Holiday Park, with its lush grass and amazing views your surfing trip could have a great camping base camp.
Surfing in Cornwall has become extremely popular , with its extra long beaches, amazing wave and sometime great warmish weather!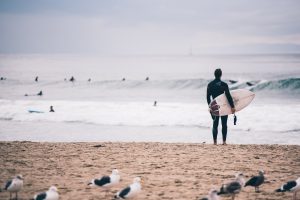 Surfing beaches are all over Cornwall from the South coast to the North, with amazing back drops from cliffs , sandy dunes, or extra long beaches, the scenery is beautiful.Some of the surf breaks are simply not easy to get to and if your new to surfing it may be best to stick to beaches that have a life guard.
Looking for Surf in St Ives
The very best place to start your surfing trip in St Ives is the amazing  Porthmeor Beach.The beach faces north west, so it is slightly sheltered from the biggest swells and strongest winds. If your looking for protection from the wind then this is the place, mainly protected from S/W winds, and try to aim for mid to high tide.
Parking at Porthmeor Beach
The parking at this great surfing beach break is limited , a tiny car park awaits you, so look for other places to park and walk down the hill, if you are staying at the Ayr Holiday Park then leave the car and take a 5 minute walk!
Whats the Best Surfing Mags?
If your looking for a good informative Surfing magazine then Wavelength will be tops for you, its got stacks of info on many Surfing issues from best beaches to the environment –
---